Whenever I'm at work on my sewing machine, or cutting out a pattern, or finishing a cross-stitch or embroidery project, Harper is right by my side. And by "right by my side", I mean so close that my arm movements are severely restricted and I can feel her breath in my ear. But really, I don't mind-- I like that she has taken such an interest in sewing.
When I saw a "Learn To Cross Stitch" project new in the box at Value Village for $1.99, I knew it was destined to be hers. I presented it to her after school today and she squealed with delight. It's usually a chore to get her to take a shower, but tonight she actually volunteered since I said that she could try it out when she was ready for bed.
Here are a few photos of Harper trying her hand at cross stitch...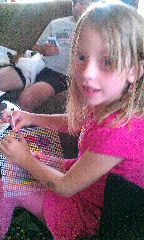 We had been working hard for a while, so I ran to take a potty break. When I returned, this is what I found- Harper observing her DADDY cross stitch. Hee-hee! Too funny.