Isn't it fun when kids bring artwork home from school? Suddenly an empty space on the wall or refrigerator has a happy burst of color on it.
I've decided to revert back to my childhood and post my own "artwork" around the house. It makes me happy to see my embroidery fill an awkward hole between photographs...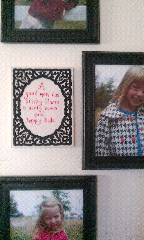 Or liven up my little kitchen!
Both projects were done on premade canvas frames found in the dollar section at Michaels. I just stitched my design right on to them, and then I had my very own happy bursts of color around my house.